Incarnate
Dungeon Master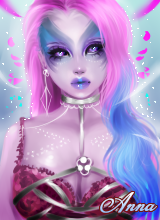 Posts

: 185


Join date

: 2014-10-12


Age

: 25


Location

: Neo Aporia


Subject: Frequently Asked Questions Wed Jul 11, 2018 4:25 pm

---

I want to play a child character, is that allowed?
Your character must be at least old enough to care for themselves. They will have no family members or friends present to help them at the start of this RP. They will also have no knowledge of any prior relationships or past lives (if they have any) so they will need to be old enough to live independently and not be a burden on another persons character - nobody wants to play babysitter constantly. You can play a character under the age of maturity for their species, but they will not be permitted access to the NSFW areas of the city; their wristbands will not permit them to enter adult shops or clubs.

Can my character leave the city? What is outside the city?
Yes; but there's nothing for miles upon miles but desert. Chances are, if they leave then they will simply die in the harsh conditions as there is no other civilization within walking distance of the city. There are also wild animals and other threats lurking outside the city; so it is unwise to venture out unprepared and alone.

Can my character be reincarnated?
Yes, your character can be reincarnated. They will however, have no knowledge of their previous lives until they either find out through story progression, slip and bang their head, experience lucid dreams etc. You're free to construct stories for their previous lives, as long as it's not revolving around them being an omnipotent God or something else which might contradict the Neo Aporia lore.

What if my character isn't reincarnated?
You're free to have a character which isn't reincarnated if that is what you choose. In this case they're a completely new person who was placed into the world by the Aporian Gods and you are free to select a species and, as the story progresses, a patron God who is the most appropriate guardian for their species.

I see there are some Gods listed in the lore, are these the only Gods?
Yes. In Neo Aporia only those specific Gods exist. For this plot to be viable, all universes outside of Neo Aporia which contained reincarnated characters were created by those same Gods to test their creations.

Can I play a Demi-God?
Yes! As long as your character is the child of one of the Gods listed. Keep in mind though, that some Gods will have more offspring than others given their habits, so try to be reasonable with your selection. You should also note that some Gods are more demanding upon their offspring than others are; so don't be shocked if your characters Godly parent curses them or even kills them for failing to live up to their expectations.